Responsive, personalized Captive Portal for any access point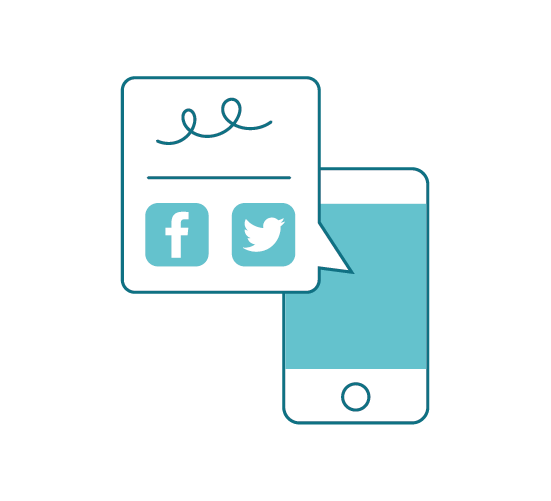 What is a Captive Portal?
The Captive Portal is the web page the user sees before accessing a public Wi-Fi network. Through this web page, users can authenticate themselves and register to the networks using their  personal credentials.
What is the function of the Captive Portal?
The Captive Portal enables users to access networks and connects itself to a Radius server in which access data is saved.
The Captive Portal can be used as a marketing tool to collect data and segment users, so that businesses that provide Wi-Fi to their clients can collect useful data and segment it for their marketing campaign.
Last but not least, the Captive Portal can be used to communicate information, insert audio-video advertisement and other similar content that will be seen by users during the authentication process.
Up to 8 SSIDs per Access Point
Tanaza allows you to create many different types of SSID: for example, an SSID for employees with WPA encrypted password, an open SSID, one with your own captive portal or one with Tanaza Splash Page for guest access. You can associate up to 8 SSIDs to each access point, even if the stock feature set of the unit doesn't allow more than one or two SSIDs. The captive portal capability is available for all the Tanaza Powered access points.
Promote a brand or a product through Wi-Fi
The Tanaza Captive Portal / Wi-Fi Authentication Splash Page is simple to setup for you, and super-simple to use for the Wi-Fi clients as well: no more Wi-Fi clients stuck during the authentication process. Start now building your customized and branded splash page!
Add your logo to the splash page, remove Tanaza's logo, change colors and background
Choose the authentication method: click-through, email or phone based (with SMS verification), voucher based authentication, social login
Publish video and image rotating advertisements through the built-in smart system for advertising
No coding, no 3rd party application needed.
No need for coding skills or 3rd party applications
If you don't want to spend your life building your own splash page, or integrating 3rd party tools to your Wi-Fi cloud management system, we suggest you to use Tanaza splash page, that works perfectly with Tanaza cloud management system. Tanaza built-in splash page allows you to enable guest access in seconds, without any coding skills. Instead, if you are a Wi-Fi McGyver, you want to do things by yourself, or if you need very specific features, then build your own splash page: you can use it, with or without an external Radius, on top of your Tanaza cloud managed access points.
Additional configurations
---
Abuse control and black list specific MAC addresses
Choose session timeout and idle timeout
Enable/disable communication among clients
Limit the number of sessions per each client on a per hour/day/week basis
Allow roaming among APs (centralized authentication).
Captive portal features
---
Customize the splash page layout
Add image and video advertisements through the built-in system
Enable many different login flows: social login (Facebook, Google+, Twitter, LinkedIn, Instagram, Windows Live), or other login flows, like e-mail, phone (verified via SMS token), code, vouchers/coupons
Set up the landing page and the walled garden
Show terms and conditions and require acceptance
Select among multiple languages available
Share Wi-Fi insights with your customers through the Tanaza Dashboard.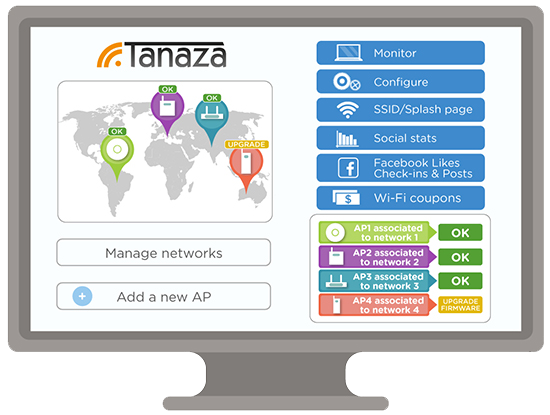 Try now the full set of Tanaza superpowers!
Start the 15-days, no-limits, all-in-one free trial:
Unlimited networks and APs
Unlimited connected clients and concurrent users
Unlimited splash pages
Full feature set
Access to the Social Dashboard for your customers