Classic Hotspot features WiFi vouchers that allows businesses to manage and control paid access to WiFi. Businesses can limit guest access to the WiFi network by setting limits to the overall bandwidth and the bandwidth per client at the SSID level. 
The Classic Hotspot couponing system allows you to efficiently create, print, and distribute vouchers for Internet connectivity.​
Limit and control guest access
Classic Hotspot WiFi vouchers allow you to limit guest access to your WiFi networks. When creating your SSID, you can restrict the overall bandwidth and the bandwidth per client. In a second step, distribute WiFi vouchers with limited download and upload quota and limit the number of devices connected to the network. 
By distributing vouchers to limit access to the Internet, businesses can prevent unauthorized non-customers from using your Internet, thus making connectivity much slower. Businesses can also tie the coupons to consumption. 
You can give your WiFi users a unique code or password, limiting Internet usage as needed. Customize the voucher codes and give users a personalized password to access the WiFi network. Vouchers can be generated and printed out from the Classic Hotspot platform.
Further, voucher codes are unique, and they are valid only for a given period, e.g., 1 hour or 24 hrs. In this way, you can avoid having WiFi users using your network all day long.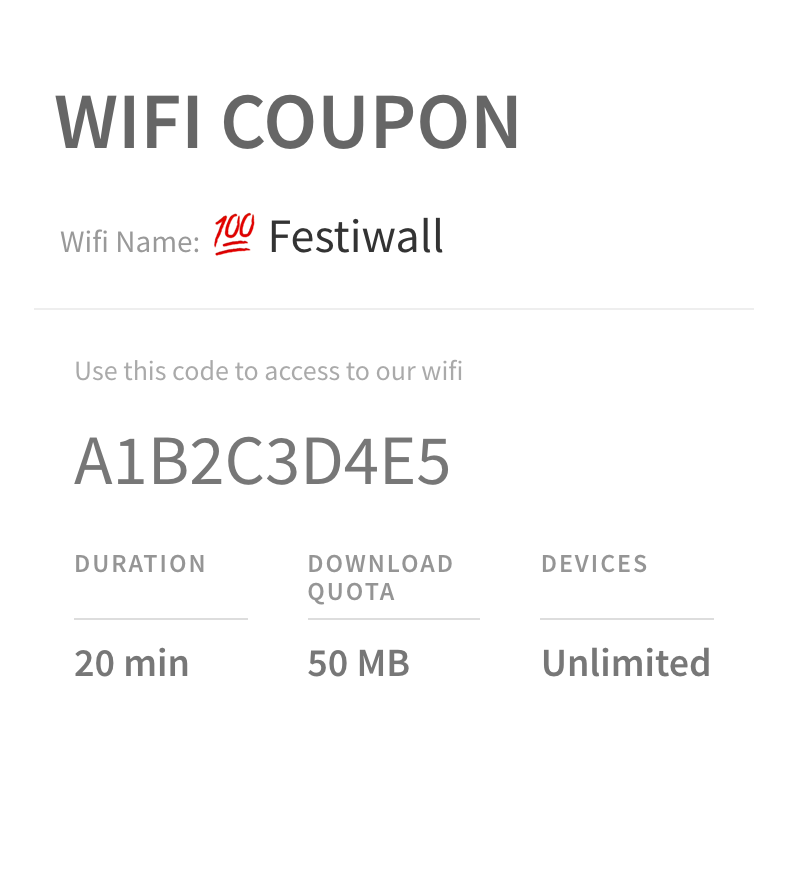 Businesses can configure a voucher template, set a data limit, a quota limit, a duration, add an expiration date, and enable the "stop and resume" option. Also, customize the voucher text and how it is printed.
With Classic Hotspot, you can:
Specify how long a user can use the WiFi during one connection

Stop and resume: if enabled, the counter will stop if the user doesn't use the WiFi, and it will restart again at the new access. The minimum time you can set up is 1 hour. For instance, if the WiFi user is connected to the Internet for 30 minutes, the counter will consider 1-hour consumption

Determine the number of devices the user can connect to the Internet with one voucher

Set a voucher's validity 24hrs, 72hrs, one week

Set the amount of data the WiFi user can download and upload with the voucher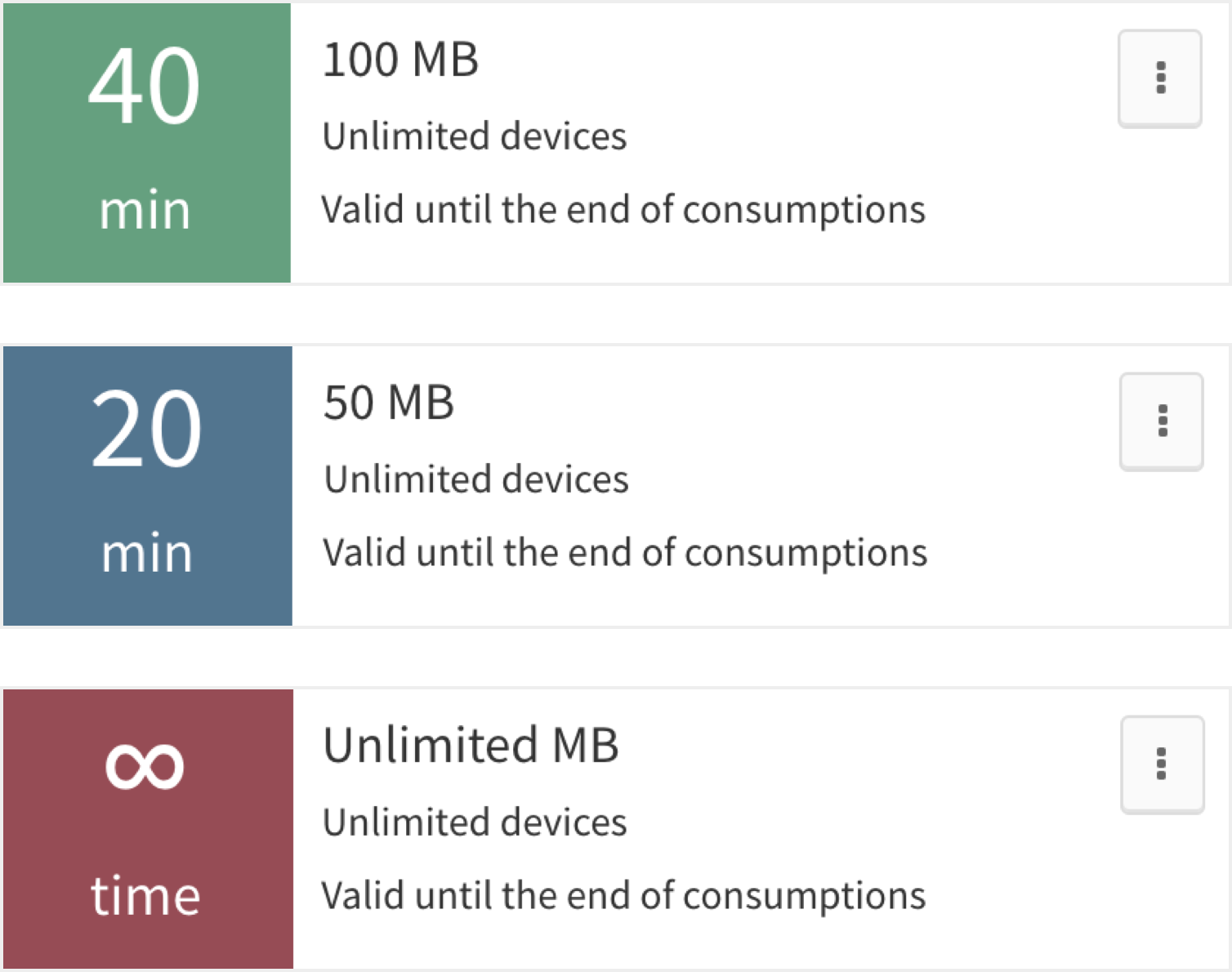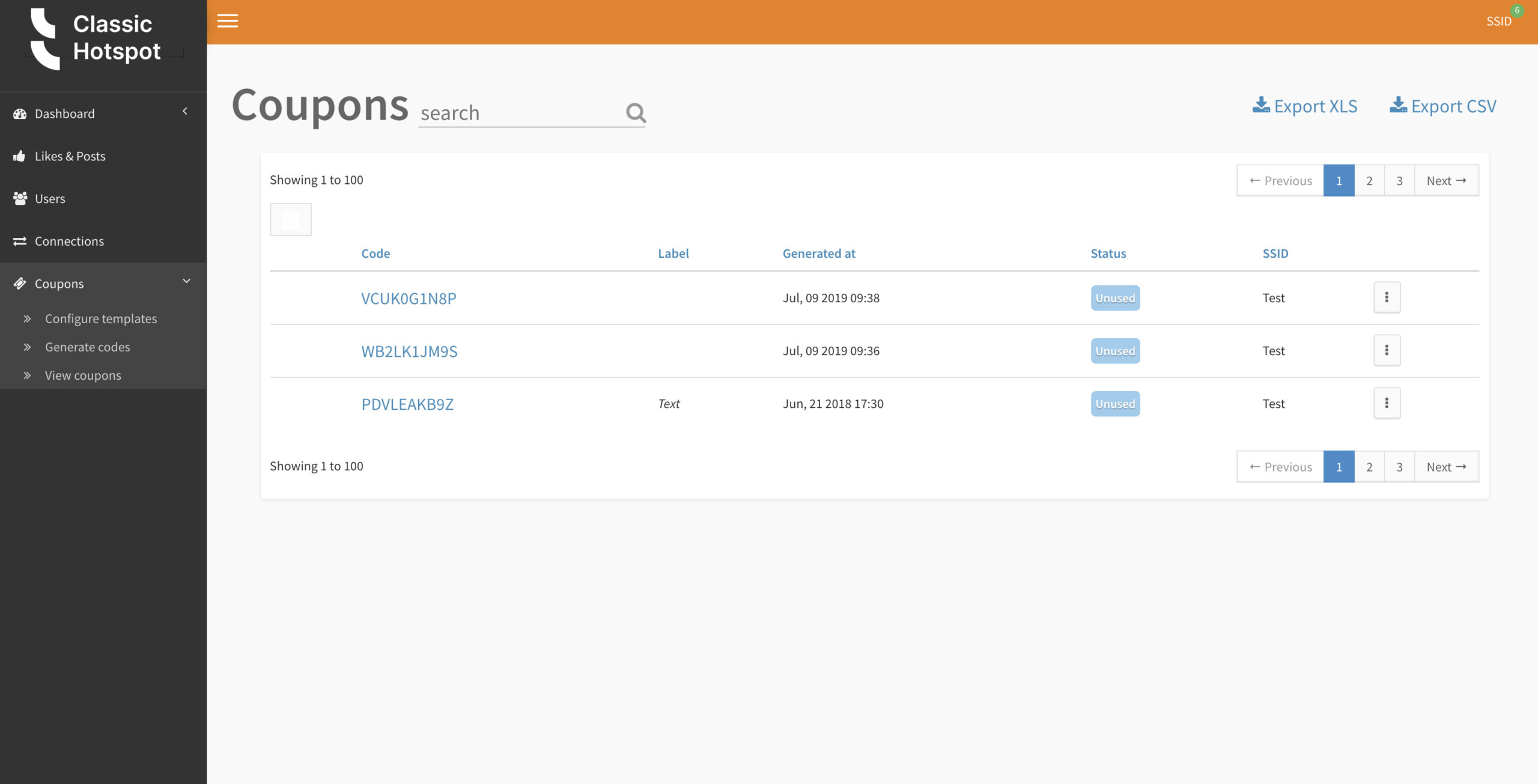 Classic Hotspot gives you a complete overview of all the vouchers created. View and manage vouchers from the "View Coupon" tab into the Social Dashboard. The Classic Hotspot platform allows you to search for a specific voucher, print or invalidate a single voucher, or in-bulk vouchers. Additionally, You can also export the vouchers and receive them via email with a link to download them.
Monitor the data usage of your vouchers, remaining time, download and upload data, SSID connected to, amount of devices connected, expiration date, and MAC address.
Configure multiple-level roles
The IT admin can configure multiple-level roles. The capabilities of issuing vouchers, monitoring clients and seeing stats are singularly assigned to authorized people (such as front desk clerks, hotel managers, venue owners).
For instance, once granted authorization, a front desk operator can easily print tons of unique voucher codes in seconds and distribute or sell them to your guests. The Classic Hotspot monitoring dashboard enables you to see in real-time if a voucher has been used or not.
How to set up the Coupon login
The WiFi Coupon system to create WiFi Vouchers is not enabled on your account by default, you can request it to our Sales Team. Watch this video and find out how to use the coupon login as an authentication method on your Splash Page.